We've all heard the saying 'mighty oak from little acorns grow.' Well, this could not be truer of Lofty Heights CIC. Since 2012, Lofty Heights CIC has grown from a single person's vision to a nationally recognised Not For Profit Social Enterprise specialising in helping vulnerable people live safely in their own homes.
2010
Although Lofty Heights CIC was officially founded in July 2012, our history goes back a little further than this, to when it was just an inkling of an idea in founder Olive Quinton's mind.
Having spent 13 years working in public health and local communities Olive aspired to create a social enterprise that would make a clear difference to as many people as possible. So, in 2011, she enrolled with the Suffolk School for Social Entrepreneurs on a 12-month social enterprise business development programme that would equip her with the skills and confidence to create Lofty Heights CIC.
2011 – 2012
Between 2009 and 2011, the government made a series of loft insulation grants available. The trouble, however, was that for people to take advantage of the insulation, their lofts had to be clear.
This was incredibly difficult for some vulnerable people in the community, whose loft space was home to a lifetime of possessions and whose homes were already muddled and unable to accommodate items from the loft.
Recognising this as a barrier to people being able to get their lofts insulated and have warmer homes, in July 2012, Olive created the social enterprise she had longed for, Lofty Heights CIC. Taking four young people on the journey with her, the team specialised in helping vulnerable people empty their lofts of possessions so that they could have them insulated. Loft insulation companies with only work in lofts that are empty and without family or friends available to help empty a loft many older and vulnerable people were missing out on the 'free' loft insulation they were entitled to.
2012-2013
After just nine months, the government stopped its loft insulation grant scheme, which sparked a change in direction for Olive and the team. Having experience helping people living in heavily cluttered homes, Lofty Heights CIC turned its attention to providing a specialist decluttering service.
What followed was a long and trusted relationship with social services, housing associations and other referring organisations.
2014
Recognising the need for focused support for carers, Olive set up a focus group with family carers to discover the type of support required. This helped shape Lofty Heights CIC's offer under its first Suffolk County Council Carers Innovation Grant in 2014/15.
Some of the help Lofty Heights CIC provided under the Carers Innovation Grant was to reposition furniture to create space for a hospital bed. Being involved in this way, however, exposed the shortcomings in the hospital discharge process. Far too many were failing at the doorstep.
Olive and the team knew they could help. It was, however, a chance encounter with the CEO of the CCG at a Health and Wellbeing Board event that opened the door for what would become Lofty Heights CIC's Homeward Bound service. Olive happened to be speaking about her first-hand experience of why so many hospital discharges fail, many of which could be resolved by making small but necessary adjustments in the home ahead of time.
The CEO spoke with Olive and asked her to submit her business proposal, which led to a 12-month funded Homeward Bound pilot project with Ipswich Hospital. Following the success of the pilot, Lofty Heights was awarded a three-year contract with Ipswich hospital, shortly followed by a similar contract with West Suffolk CCG.
Tutor trust funding given to develop a de-cluttering service.
Helped 12 young people through training, 6 young people onto work experience, 4 young people employed.
33 de-clutters, 38 loft empties and 13 carers helped so far.
2015
Received funding to run a health improvement programme.
Talentmatch and Wheels to Work enabled team recruitment with Lofty Heights CIC help.
Moved into our first office at Bealings.
2015 – 2018
Award Winning Lofty Heights CIC
2015 Winner of The Suffolk High Sheriffs Group of the Year Award
2016 Highly Commended National Crime Beat Awards
2017/18 High Sheriff's Certificate of Recognition
2018 Finalist People Development Awards Suffolk Coastal People Development
Awards
2020 BBC Radio Suffolk Making a Difference
Certificate of Recognition
2021 Social Enterprise UK Nomination
2016
Highly commended by Chief Constable Gareth Wilson following a nomination from the High Sheriff of Suffolk.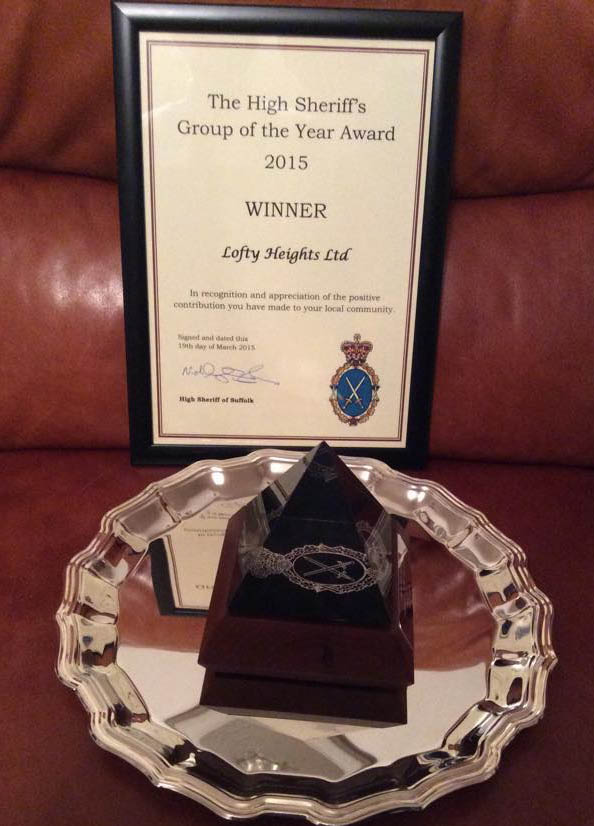 Completed training to install loft storage platforms.
Tudor Trust continuation of support to Lofty Heights CIC.
Georgina joined us
2017
Moved into the new office at Brightspace, Ipswich of which we are still in.
Continued to grow and expand Dementia friends' recognition. Updated uniform from the East of England Co-op.
House Clearance pilot launched to wonderful effect and has helped thousands of people since launch.
2018
Homeward Bound Service is launched to great effect and has helped hundreds of people in Suffolk so far.
Percy the van is unveiled to everyone
Started a new recruitment programme with a 6-week training course with Realise Futures and work experience with Lofty Heights CIC.
2019
The banners we use for events and functions were updated and very well received in the community.
2020
Website has a small refresh to keep it with the times. Homeward Bound West pilot was launched with great success. Pre-employment training with help Realise futures was ran and helped many people into work.
2021
Today, Lofty Heights CIC offers six core services; Decluttering, Help with Hoarding, Homeward Bound, House Clearance, Garden Clearance, End of Tenancy Clearing, as well as funded support for carers.
The Covid-19 pandemic brought about some very difficult challenges for Lofty Heights CIC, but it continued to help vulnerable people in as many ways as it could. The Homeward Bound team, for example, helped over 500 people safely return home after a hospital stay, freeing up much-needed NHS resources at the most difficult of times.
However, in amongst all the uncertainty, something exciting happened for Lofty Heights CIC in 2021 when it was awarded a grant and gifted some pro-bono time to create a new brand identity and website.
We decided to keep the same name, which is well recognised across Suffolk. So we just gave ourselves what we like to call 'the lofty treatment' – we did a bit of decluttering ourselves to make our service offering clearer!
2022
We welcomed the new year with a new fancy rebrand by our friends over at Sudio BrandUp. We also welcomed our new CEO, Garry Mills after Olive's retirement.
Lets see what the rest of the year brings.
Giving Young People a Chance
Our journey is an enterprising one. Since we started, we are proud to say that we have improved the life chances of young people who would otherwise have struggled to find work and develop the skills they need to thrive. We've offered work experience to 20 young people through our NEET scheme, and we're delighted to report that 14 have secured employment with us and even gone on to run their own business!
Our Team
We could not achieve what we do without the commitment, dedication and skill of our team and the partners we work with. Together, we make a clear difference every day.